Unmasked, Loved and Empowered
Move confidently on your journey to discovering, appreciating and empowering your authentic self with this story-guided-introspection-notebook.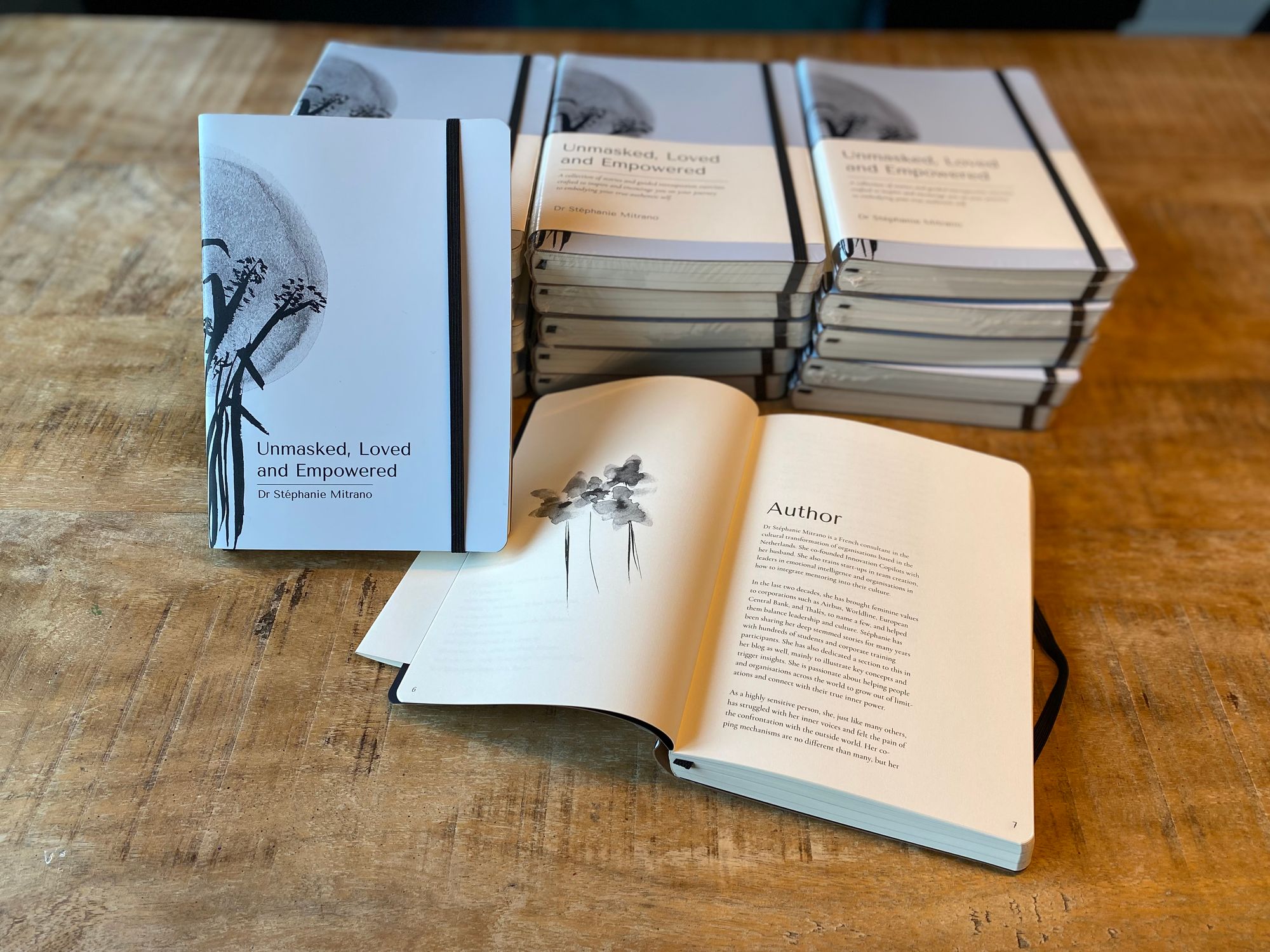 Have you ever felt that the "you" people see, work with or love might not be the real "you" you are on the inside?
Do you know what is hiding behind your mask? Are you courageous enough to unmask and be loved for who you truly are?
In this book of stories, Stéphanie takes us on an entertaining yet insightful journey of self-discovery, self-doubt and self-appreciation. The short easy-relatable yet inspiring stories take place in everyday life. This goes to show that growth and a-ha moments can be triggered by the smallest things in life, you don't need major life-changing events to find life-changing insights.
This story-guided-introspection-notebook offers plenty of space for you to put your thoughts, stories and insights to paper and hence support your self-development journey.
The A5 book/notebook is composed of 27 stories laid out with empty spaces and illustrations over 260 doted pages, on 120g premium paper. The book cover is bonded leather using recycled leather.
What They Said About the Book
The author drew me in from the beginning with her vulnerable story of when she was asked to speak from the heart on a video interview with no previously prepared questions or interview plan. Through 27 personal and insightful stories, Dr. Mitrano shares how she uncovered the many masks she had been wearing since childhood and came to love what was beyond those masks. As a highly sensitive person and skillful coach and consultant, she sprinkles questions, tools and wisdom throughout. I would highly recommend this book to anyone who wants to better understand themselves and learn how to connect with their true authentic self. Within these pages are the nuggets to help you become a better communicator and a more conscious leader in your personal and professional life. Pamela Thompson, BN, MSc. #1 Best Selling Author, Leadership Coach & Consultant, Speaker, Canada.
I can relate to the chapter 'Corporate life is not for me' of this notebook.
Actually, I could relate to every single chapter and write my personal experience after each one, answering the questions asked at the end.
I think it will be a nice memory/wisdom book both for me and my daughter later on... Stéphanie Simpson, Strategic Partnerships Development Manager, Switzerland for UNHCR, Switzerland.
I'm enjoying the "slowreading" of this book by Stéphanie Mitrano these days. It's a book which invites us to do some introspection work. Its pages actually have space for your own reflection and journaling, which are triggered by the "stories and coaching questions" my dear Stéphanie wisely wrote in the book. Thanks 🌸 Dr Stéphanie Mitrano-Méda for showing vulnerability by sharing your personal stories and therefore giving us permission and space to reflect on our own vulnerability and the tricks we use trying to cover it and the traps we fell in. Your book is really insightful! I'm looking forward to going to the Loved and Empowered part of your book... Sara Garces Montero, Leadership University Campus Leader, Airbus, Spain.
Back when I was still a Bachelors student, I took 🌸 Dr Stéphanie Mitrano-Méda's course on "Authentic Leadership". It was one of the university courses that had the most lasting impact on me and shaped the way I see the (business) world and my role in it. I thoroughly enjoyed her interactive teaching style and the concepts she taught, but especially some of the stories she used to illustrate her points stuck with me. When I learned that Stéphanie published a book, it was a no-brainer for me to order it straightaway. From the moment the book arrived it was obvious that it is a true labor of love. The book's neat quality is unlike any of the mass printed books you find in book shops. I was amazed to see that it's illustrated with classic drawings made by Stéphanie herself! I was happily surprised that the book is mostly made up of those wonderfully insightful stories that I loved so much in Stéphanie's classes. The book is truly living up to Stéphanie's own teachings about authenticity. When you read the stories, you don't feel like someone is trying to force-fit a lesson onto you. She's not re-using common coaching models that you've seen elsewhere. Instead, she's telling her own moments of growth and insight in a real and relatable way and through journaling questions she's inviting you to reflect about your own experiences and characteristics. Working my way through the book, I felt like getting to know Stéphanie and myself on a deeper level. The book gave me a sense of comradeship on the journey of self-inquiry. And the book is just crafted overall in such an impeccable, beautiful way that it raises the question: what if we approached all our projects with so much care and attention to detail? Wouldn't the world be a more beautiful version of itself? Thank you Stéphanie for leading by example once again! Dr Tanja Schomann, entrepreneur, Germany.
I find the book very valuable and especially for the woman with a higher education background. I find it inspiring, it is showing her personal development, and it is showing a great example of a woman who seeks support from a mentor herself, her demons and also successes that she has realized and made her proud. Also becomes clear that life is a learning process all the way. The questions are useful for deepening the readers insights.Margreeth van der Oord, Social Artist, International Mindfulness Coach, Counsellor, The Netherlands.
The most valuable journey you can make is the journey within. The best 'travelguide' is the note/ work book Unmasked, Loved and Empowered . This journey made me realize that you wear many mask that don't serve you and brought me closer to my authentic self. Every chapter is a gift ...read it and receive it! Especially the chapter: How to catch monkeys! Thank you Stephanie for sharing your personal stories. It gave me a life changing journey. Patricia Wientjes, Netherlands.
Unmasked, Loved and Empowered is a compelling story for those who yearn for inner peace and to live a free flowing life. Are you hiding behind walls which separate you from your authentic self? If so, 'Unmasked, Loved and Empowered' is tailor made for you. Take time and draw wisdom from Stephanie's real stories of courage. She offers practical tools, guidance on how she boldly pealed layers that denied her to be truthful to herself and embrace who she really is. Her book is thought provoking and transparent.Yvonne Busisiwe Kgame, Teacher, Inspirational Speaker, Published Author, Mentor, South Africa.
Brilliant. This sort of writing requires a lot of bravery, self-determination and willingness to put yourself out there.Dr. Anna Farrenkopf, BioTech Entrepreneur, Mentor, USA & The Netherlands.
Stéphanie, I'm finishing up the book, and every single page I read, I end up breathing out with an amount of awe and admiration I feel for the way you've spilled your feelings out on paper. I haven't told you this before— but this book has had such a huge impact on me. Each line makes me think and question my entire purpose, but in the best way possible. Thank you for giving me this book to proofread, it's an absolute masterpiece. I only hope I'm able to do it justice.Vanshika Agarwal, Author, Editor and Proof Reader, India.
⚠️
The book stock is currently being relocated - Orders are temporarily stopped, please subscribe to be informed when shipping will resume.